Lost Village
"The digital revolution changed us forever. We take many of the modern amenities and conveniences for granted. Man has all but become a slave to technology. The onslaught of the drastic changes brought about by this new age is calamitous in scale. Yet in all disasters there's at least a sole survivor:
Om Al Tanafes Al – Fow'a."
I didn't write this uncanny introduction on my own. It's rather my translated version of the prologue to a 27- episode Syrian comedy show called, appropriately enough,
Day'a Day'aa
(Lost Village). The name of this place is
Om Al Tanafes Al-Fow'a
. The series started airing a few months back on
Abu Dhabi Satellite Channel
before other TV stations tagged along. It gradually picked momentum and in due course gained phenomenal success all over Syria. In the coastal region in particular, Lost Village has gathered a huge following of fans. Its key to success and humor lies in the fact that, and for the first time, it uses a local form of
Lattakian
dialect. Even the
Tartoussi
neighbors, who inherently abhor the atrocious Lattakian tongue, fell in love with the show.
Now let me clear a couple of important matters. The show itself might prove irrelevant as far as my non-Syrian readers are concerned but please bear with me and don't get disheartened yet. I promise to make it up by taking you on an interesting journey. Then I have to mention the critical reviews, which by and large, were all inauspicious toward the show. Too vulgar, crude, weird and provincial sense of humor, they claimed. However, we all know for a fact that by and large most critics are botched writers, painters, poets, chefs or artists. At a certain point in their creative careers they failed to stop taking themselves too seriously which is perhaps the only road to brilliance and originality. Instead of creating they reverted to passing judgment on the creativity of others. They became, for lack of a more decent word, bitter assholes who can't grasp the beauty of minimalism.
Lost Village was written by
Dr. Mamdouh Hmadeh
and directed by
Al-Layth Hajjo
.
Om Al Tanafes Al Fow'a
is a small village in the amazing and picturesque countryside of Lattakia where time had stood still. The few inhabitants of this miniature rural community all play central roles in the show. However, the main two characters are
Ass'ad
and
Judi
(played by
Nidal Sijri
and
Bassem Yakhour
), two friends-for-life whose knowledge of the outside world equals that of mine in rap music and cubic painting.
Gergos Jbara, Zuhair Ramadan, Toulay Haroun
and
Abdul Nasser Saraqbi
are members in a cast of extremely funny actors who had perfected the Lattakian dialect up to a very suspicious extent.
It must come as no surprise that I felt awfully itchy not to go and take a look at the location where the show was shot in its entirety. Om Al Tanafes Al Fow'a's real name is
Al Samra
(The Brunette), a tiny village at a 9 km distance to the west of
Kasab
and a couple of hundred meters south of the
Turkish
border. This is certainly the most stunning place in all of Syria. I have been around Al Samra on a few occasions before. Twelve summers ago, in the company of three biker friends, I camped in the thick forests of the region overnight. It was like a homecoming for me, except that now this forgotten piece of heaven has become a household name all over the country.
We left
Tartous
on a Friday morning and made it to Lattakia (90 km to the north) in a little over 45 minutes. Then we headed in a northeasterly direction climbing steadily up the mountains. Driving through endlessly gorgeous orange groves at first then through denser and denser hills covered with pine, fur and laurel trees we reached
Lake Balloran
.
We parked on the side of the road and feasted on the beauty of the scenery with hungry eyes. Further ahead a simple handwritten sign with the word
عسل
(Honey) grabbed my attention. I rolled the window on the right side of the car down and the smell of fresh
Mana'eesh Bi Zaatar
and
Bi Jebneh
(Thyme & Olive Oil pies and White Cheese Pies) assaulted my passengers' and my nose. The fire in the
Tannour
was blazing and the attending woman beamed at us with a huge smile and kind eyes. We hurriedly aborted the car and took refuge on a table in the outdoors under a whicker cover.
This place, like a dozen or more on the way up, is family owned and operated.
Abu Ali
brought the tea service while his wife
Om Ali
, helped by one of her young daughters, prepared the pies. It was a once-in-a-lifetime memorable breakfast with food that defies description, hospitality that rebels at logic and goodness that betrays a deeply ingrained generosity. These folks might be economically classifiable as poor but for the life of me I have never met a more loving couple, a happier bunch of kids, a more spectacularly functional family or a richer group of people in their dignity and sufficiency.
After I had my fill of pies and tea I walked into the
Dekkan
(one room in the house transformed into a small grocery store) and asked Abu Ali if he still had any honey for sale. He brought forward a dusty 1 kg jar, the only one left, from a higher shelf behind. "
This is the last one of the season
", he confessed. "
It's pure Ajram Assal
" (
عسل عجرم
Heather Honey from the Genus Calluna). He produced a straw and dipped it ever so lightly in the open jar. "
Here, try it. It's untouched by humans
". "
No Abu Ali, I don't want to. There's nothing around this land of yours or beyond to add to your honey which won't make it even better
". He gleamed at my words of compliment and trust and, unasked, reduced his price. "You've made my day with your words, "
Abu… Shou Bil Salameh
" (the father of whom may I ask)? "
Abu Fares min Tartous
", I replied as I proudly pointed a finger toward
Fares
, who was joyfully playing like a freed bird amongst the trees. "
You still have to try it though,
" plunging that straw further into the honey jar. I swear to you dear reader, not even
Nancy Ajram
could've tasted as delicious as this
Honey Ajram
. My eyes rolled upward to heaven in ecstasy.
An hour later we resumed our ascend to Kasab at 1725 m altitude. The sky was impeccably blue and the air chilly and crisp. A man was tending a fence and I asked him for directions to Al Samra. He replied with a delightful Armenian accent: "
Everybody is going to the Lost Village today, what's wrong with you people!
" Yet he smiled and showed me the way.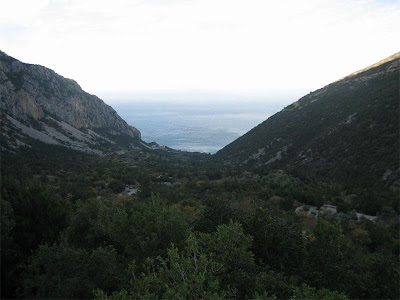 Day'a Day'aa - Lost Village
The road was narrow and steep. We were descending fast into a …. valley. A valley unlike any I have ever seen before. Two mountain peaks loomed off to our right and left and sloped sharply to meet each other at a little distance ahead where their feet joined in the azure sea. The mountain to the right was in Turkey while the one on the left and the road itself belonged to Syria. The scene was breathtaking and I had to pull to the side again. We brought our collars higher around our chins and stood mesmerized and awestruck. The cold seemed to be that of another planet. The sun peaked at her zenith but even she seemed to be burning ever more cleanly.
The first house from the show was a little further down the road. It was the
Mekhtar's
house,
Abdul Salam Al Beeseh
(played by
Zuheir Ramadan
). There was a row of cars, bumper to bumper, parked on the side and people roaming the road, like us, enthralled by the eternal beauty of this magical place. We walked by each of the familiar houses with a quiet throng as if on pilgrimage to another world. My dad, my sister, my wife, my son and I felt elated. Deep inside I was worried though. What could become of this secluded and forgotten village with the constant offensive of tourists like us? I silently prayed for the natives and their good earth not to lose what has become so rare and precious. I prayed that they don't drop their innocence for another way of life which has already proven ephemeral and pointless.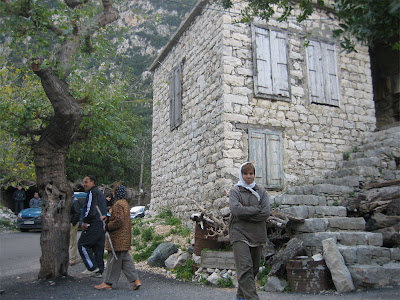 We had a great yet simple lunch at a restaurant called
Al Rabwe
on the outskirts of Kasab then made it into the town center by sunset. My passengers wanted to do a little shopping in this mostly Armenian town. From previous visits I knew of a wonderful shop where local items, hard to find anywhere else, are sold. Kasab is most famous for special delicacies and her
Laurel Soap
, which they have perfected into a fine art. Their soap is prepared with olive oil and laurel leaves in its most plain form. However, a huge array of various blends are produced and sold. I ended up buying laurel soap with
rose water
, with
honey
, with
flower essence
and with
musk
. My olfactory sense was at a total loss inside this store. We also bought
Zaatar
(Thyme),
Rahat Holkum
(Loukoum),
Malban
stuffed with walnuts and pistachios, herbal tea and spices.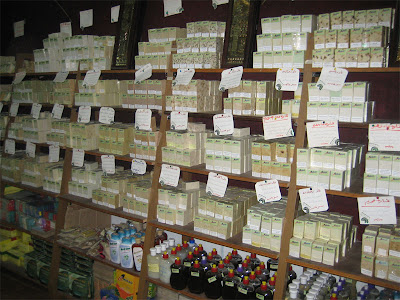 It was only fitting for such a wonderful day to end on a sublime note. We drove back in full moonlight and although I was eager to get home as quickly as possible I didn't push hard. Images and aromas of the good food we brought danced in my head for a quiet dinner. The warmth of a scented bath with a thousand floating laurel leaves beckoned at me. I made good on my reveries once I got home and slept to dream even beyond.